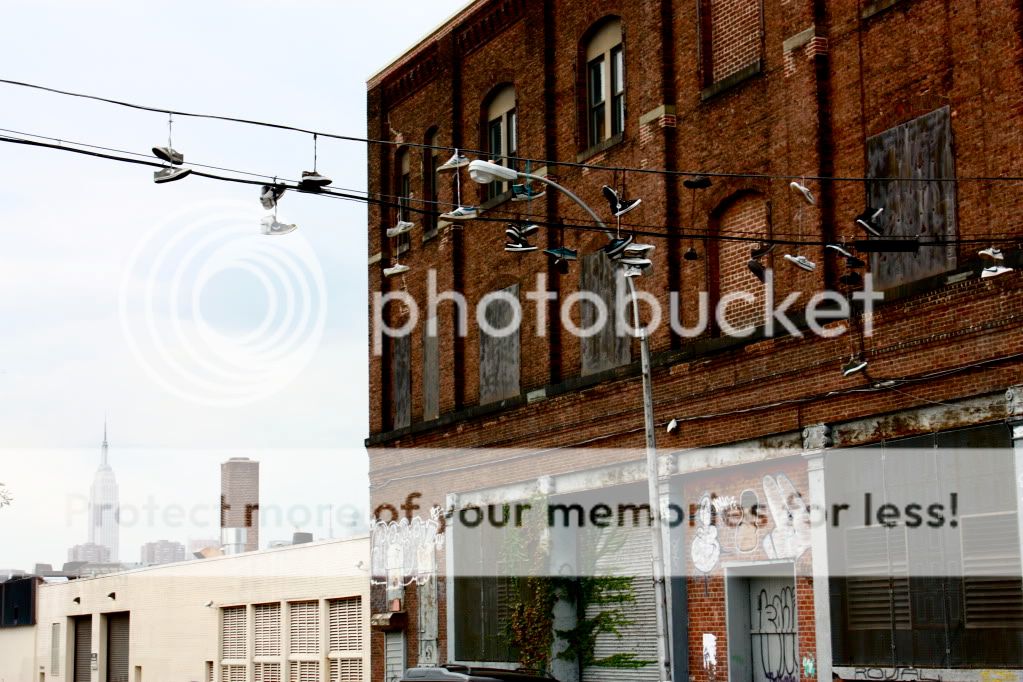 (raybans, Joseph cashmere sweater, Fletcher by Lyell jumper, Dolce Vita Boots, Tag Heuer watch)
photos: mac stringer and myself
these pictures were taken on a recent trip to brooklyn. mac and i ate at a favorite cafe (and were joined by a cat with two different colored eyes who scaled an entire wall for some scraps), made some money at beacon's closet, and enjoyed the incredible street art. how else should one spend their sunday off?
on another note, the adorable
Beverley
tagged me in her latest post - thank you, miss!
1.) Why did you start blogging?
Seeing as I only just began two weeks ago, I'd say that I'm still "starting"! I love having an outlet to share my life with others who appreciate the same things that I do. I love the idea that I can look back months from now and see what I was doing, wearing, and feeling. But most of all, I love everyone who takes the time to respond, or even care about my ideas and opinions! I really appreciate the organic nature of style blogs – I know that you picked out and styled that outfit from your own closet and not Vogue's (although I wouldn't refuse a gander in there sometime…). Basically, blogging is fun as fuck, and as we all know by now, it's a budding fashionista's best-friend. Have a rambled?
2.) do you prefer spring/summer or autumn/winter?
Autumn and winter! When May rolls around, I always think I'm going to love summer so much more than I actually do. I mean, who wants to plan an outfit around inevitable sweat stains?! Being from Wisconsin, where it's consistently in the negatives during wintertime (and sometimes even in the spring), I think an appreciation for layers and furry accessories is in my blood. Bring it on, blizzard, I'm ready for you with my double hooded Mandy Coon.
3.) What do you notice first: smokey eye make-up or bright lips?
Bright lips! Anyone can pull off a smokey eye, but there are few who can do a bright lip without ending up with bright teeth to match.
4.) Who are your style icons?
I hate answering this question because there are too many people who influence my style and feelings about fashion to name! For starters - Julia Restoin-Roitfeld, MkA, Kate Bosworth, Christine Centenera, Anna Dello Russo, Elisa Sednaoui – mainly I respect anyone who takes a risk, styles themselves, and doesn't take fashion too seriously. But ask me tomorrow and I'll probably give you a whole new list.
5.) Describe your personality in three words?
Ambitious. Weird. Sparkly.
6.) If you had to leave the house with only one item of make-up what would it be?
Nude lipstick with mint chapstick underneath.
7.) Which era do you think influenced fashion the most?
The present! People, art, and the world are constantly evolving. I'm influenced by that evolution. (Plus – fashion is cyclical. What affected my mom in the 70's is still affecting me today, only in a different, more modern way. I love that.)
8.) What beauty product do you always repurchase?
I'm a self-described product junkie. You're looking at a sephora VIP member. I have TONS of makeup and barely ever wear any of it (someone teach me?!). The one product I will always re-buy is Bumble and Bumble spray de mode hairspray – it instantly gives your hair that sexy slept-in texture that I can never quite achieve even after I've slept in. It's holy.